Many customers express a keen interest in visiting Thygesen Textile Vietnam's office and headquarters directly, and we wholeheartedly embrace this opportunity. We believe that a personal visit allows you to gain a deeper understanding of our company and the excellence we maintain in clothing production.
Our commitment to transparency and customer engagement extends to showcase our state-of-the-art clothing production facility. By taking a visit to our factory, you can understand our clothing production as well as witness firsthand the meticulous craftsmanship, advanced technology, and stringent quality control measures that go into every garment we produce. We value the opportunity to provide you with an inside look into Thygesen Textile Vietnam, strengthening our dedication to open collaboration and ensuring your confidence in the quality of our products.
Overview of Clothing production facility at Thygesen Vietnam: International Standards
Thygesen Vietnam's clothing production facility adheres to international standards, ensuring top-notch quality in every aspect of garment manufacturing. From advanced technology to skilled craftsmanship and stringent quality control, our facility upholds the highest industry benchmarks to deliver excellence in custom clothing production.
Marketing & Sales Department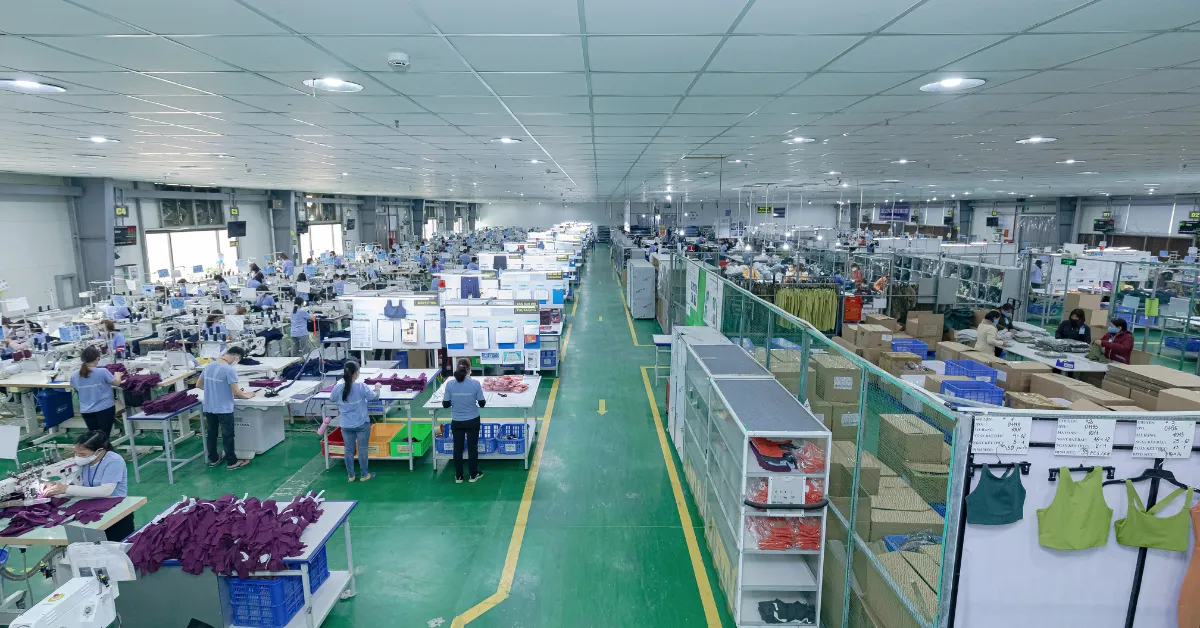 At Thygesen Textile Vietnam, our Marketing & Sales Department serves as the first point of contact for your clothing manufacturing journey. We are dedicated to addressing your inquiries, providing the necessary support, and guiding you through the entire process. Whether you need consultation on fabric selection, assistance with tech packs, or samples for your designs, our team is here to help. We take pride in delivering accurate and timely quotations, ensuring that you have all the information you need to make informed decisions about your custom clothing project. Your success is our priority, and our Marketing & Sales Department is committed to supporting you every step of the way.
Sourcing team
In a global marketplace, where materials can come from various regions, Thygesen's Sourcing Team's ability to identify and secure top-quality materials is instrumental in our success.
They are responsible for procuring high-quality materials and components essential for garment production. This team plays a critical role in ensuring that our clients have access to the best resources available in the textile industry.
Our Sourcing Team is comprised of experts with in-depth knowledge of the textile market. They carefully select suppliers and materials based on quality, sustainability, cost-effectiveness, and compliance with industry standards. Their expertise enables us to maintain a reliable and diverse supply chain, mitigating risks and ensuring a steady flow of materials.
Merchandising
The Thygesen Textile Vietnam Merchandising team plays a pivotal role in ensuring seamless and efficient clothing manufacturing processes. Comprising dedicated professionals, this team oversees the coordination of various aspects of production, from material sourcing to quality control. They act as the bridge between customers and our manufacturing facility, meticulously managing timelines and requirements. Their expertise in handling orders, monitoring progress, and maintaining quality standards is instrumental in delivering top-notch products that meet and exceed customer expectations.
Logistic
The Thygesen Textile Vietnam Logistic team is committed to ensuring the punctual delivery of our products on a global scale. With a strong emphasis on efficiency and reliability, this dedicated team meticulously manages the logistics involved in the production and shipment of clothing. They coordinate the movement of raw materials, oversee production schedules, and ensure that finished garments reach customers around the world on time. Their expertise in supply chain management and international shipping logistics is crucial in upholding our reputation for timely deliveries and global reach.
Technical Design Department
At Thygesen Textile Vietnam, the Technical Design Department is the skilled team bridges the gap between design concepts and practical production. They meticulously transform intricate design ideas into precise technical specifications and blueprints.
The department's expertise lies in understanding fabric behavior, garment construction, and production feasibility. They play a pivotal role in ensuring that each design is not only visually appealing but also manufacturable on a large scale. Their attention to detail and commitment to quality are instrumental in delivering garments that meet or exceed our clients' expectations.
Pattern Making Department
Pattern Making is responsible for translating design concepts into precise templates or patterns from which clothing is cut. They play a crucial role in ensuring that garments fit accurately and consistently, as the quality of the patterns directly influences the final product.
Pattern makers at Thygesen are experts in geometry, fabric behavior, and garment construction. They meticulously create templates that minimize fabric waste while optimizing material utilization, contributing to cost-efficiency in production. Their attention to detail is paramount, as even minor errors in patterns can lead to significant issues during manufacturing.
The Pattern Making Department collaborates closely with the Technical Design Department to transform creative ideas into practical blueprints that meet production requirements. Their commitment to precision and accuracy is essential in delivering garments that align with client expectations and industry standards.
Sampling department
This team is responsible for creating initial garment samples based on the technical specifications provided. These samples serve as prototypes, allowing clients to visualize and assess the design before mass production begins.
Sampling is a critical phase where design concepts come to life. It allows for adjustments and refinements to be made to ensure that the final product aligns with the client's vision. This department requires a blend of technical expertise and creativity to produce samples that accurately represent the intended design.
Thygesen's Sampling Department is committed to precision and attention to detail. They work closely with clients to understand their specific requirements and preferences. This collaborative approach ensures that clients have a clear understanding of the garment's look, feel, and fit before moving forward with bulk production.
Cutting department
This department is responsible for transforming fabric rolls into the precise pattern pieces needed for sewing. It's a crucial step in ensuring efficient material utilization and minimizing waste.
Highly skilled technicians in the Cutting Department use advanced cutting machines to precisely follow the patterns created by the Pattern Making Department. Their attention to detail is paramount, as any inaccuracies can affect the overall quality and fit of the final garments. They work meticulously to ensure that every piece is cut to perfection.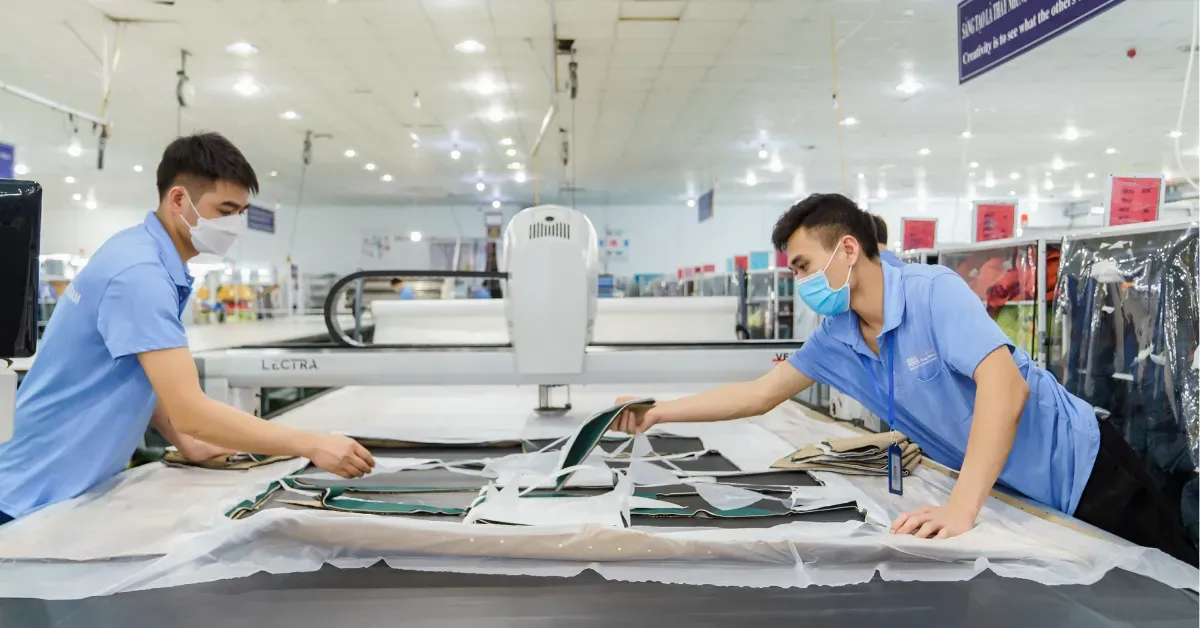 Efficiency is key in this department, as proper material handling and cutting techniques contribute significantly to cost-effectiveness. The team's ability to optimize fabric usage helps minimize production costs, making it an essential element in delivering high-quality garments at competitive prices.
Sewing department
The Sewing Department at Thygesen Textile Vietnam is where the magic happens – where pieces of fabric are transformed into finished garments. Our team of skilled seamstresses, tailors, and machine operators bring together the various components of a garment with precision and expertise.
This department plays a pivotal role in ensuring that garments meet design specifications, fit accurately, and are constructed with the utmost care. Each garment undergoes a series of sewing processes, from stitching seams to attaching buttons, zippers, and embellishments. Quality stitching, consistency, and attention to detail are the hallmarks of the Sewing Department.
Our Sewing Department is equipped with modern sewing machines and technology to handle a wide range of fabrics and styles. Whether it's a simple T-shirt or a complex tailored suit, our team has the skills and experience to produce garments that meet or exceed client expectations.
Finishing department
The Finishing Department at Thygesen Textile Vietnam is the final stop in the garment manufacturing process, where garments receive their last touches before being prepared for distribution. This department ensures that each piece is ready to meet the high-quality standards our clients expect.
Finishing involves various tasks, including pressing, ironing, steaming, and quality control checks. Garments are meticulously inspected to ensure they meet design specifications, have consistent stitching, and are free from defects. Any wrinkles or imperfections are expertly removed, and garments are carefully folded and prepared for packaging.
Quality Control department
The Quality Control (QC) Department at Thygesen Textile Vietnam is the final safeguard in our garment production process, responsible for ensuring that every piece leaving our facility meets stringent quality standards. This department plays a pivotal role in upholding our commitment to delivering garments of exceptional quality to our clients.
The QC team consists of highly trained inspectors who conduct thorough examinations of each garment. They meticulously check for consistency in stitching, proper fit, accurate labeling, and the absence of defects or imperfections. Garments are inspected both visually and through tactile examination to guarantee they meet design specifications and are free from flaws.
Warehouse
At Thygesen Textile Vietnam, we maintain a well-organized and efficiently managed warehouse to store fabrics, raw materials, and finished goods. Our warehouse serves as a critical hub in our supply chain, ensuring that materials are readily available for production and that finished products are properly stored before distribution.,p
The warehouse is meticulously organized, with a systematic inventory management system in place. Fabrics and raw materials are stored in a controlled environment to maintain their quality and integrity. This approach helps us optimize production efficiency and meet our clients' demands promptly.
Why Choose Thygesen as Your Clothing Manufacturing Partner
Choose Thygesen as your clothing manufacturing partner for our unwavering commitment to quality, decades of industry expertise, and a comprehensive range of services. We prioritize your brand's success, offering flexibility, transparency, and a seamless production process that ensures your vision becomes a reality.
Modern Machinery System
Our commitment to innovation and efficiency is reflected in our advanced machinery, which spans various stages of the production process. From precision cutting and sewing machines to cutting-to finishing equipment, our technology ensures both quality and speed in garment production. This machinery system empowers us to meet the diverse and evolving needs of our clients while maintaining the highest standards of craftsmanship. It is a testament to our dedication to delivering top-tier custom clothing solutions in today's fast-paced fashion industry.
ISO 9001 & LEAN Set up
Thygesen Textile Vietnam is proud to adhere to ISO 9001 standards and implement LEAN principles in our operations. ISO 9001 certification reflects our commitment to maintaining rigorous quality management systems, ensuring that every aspect of our production meets or exceeds international quality standards. Our LEAN setup emphasizes efficiency and continuous improvement, enabling us to streamline processes, eliminate waste, and optimize resource utilization. These practices, combined with our dedication to quality, allow us to provide clients with top-notch products while maintaining cost-effectiveness and sustainable practices. 
Commitment to Quality and Sustainability
At Thygesen Textile Vietnam, our commitment to quality and sustainability is at the core of everything we do. We pride ourselves on upholding the highest standards of craftsmanship and quality control, ensuring that every garment leaving our facility meets or exceeds industry benchmarks. Our dedication to sustainability extends to responsible sourcing of materials, eco-friendly production processes, and ethical labor practices.
Besides, we understand the importance of minimizing our environmental footprint and contributing to a better future. Our focus on quality and sustainability reflects our commitment to providing clients with not only exceptional products but also the assurance that their clothing is produced with integrity and care.
Thygesen's Expertise in Clothing Production
Thygesen Textile Vietnam offers wide range of product lines. From seamless leggings, high-performance sports bras, organic cotton T-shirts, bamboo loungewear, to hoodies, underwear…we excel in delivering quality and innovation across a wide range of clothing styles and materials. Our commitment to excellence and customization ensures that each product meets and exceeds our clients' expectations.
Women activewear
At Thygesen Textile Vietnam, we specialize in women's activewear and prioritize both efficiency and quality. Our manufacturing processes leverage cutting-edge technologies to streamline production, enabling us to handle large-scale orders while upholding impeccable craftsmanship. Rigorous quality control checks are implemented at every production stage, ensuring that each activewear piece leaving our facility meets our exacting standards. We take pride in crafting activewear that not only boasts a stylish appearance but also excels in performance, empowering activewear  brands for success in the competitive fitness and sportswear industry.
Mens sportswear
At Thygesen Textile Vietnam, our specialization in men's sportswear extends to the careful selection of eco-friendly high-performance materials. We understand the importance of choosing fabrics that align with active lifestyles, offering features like high compression, moisture-wicking, breathability, and stretchability. Our commitment to sustainability drives us to source materials that not only enhance athletic performance but also minimize environmental impact. With a focus on quality, functionality, and eco-consciousness, our men's sportswear embodies the perfect blend of performance and sustainability, ensuring that athletes can excel in both their workouts and their commitment to the planet.
Seamless leggings
Thygesen Textile Vietnam takes pride in crafting seamless leggings from high-quality materials, including nylon, polyester, and spandex, which can be adjusted to meet specific customer requests. These leggings are designed with functionality in mind, offering exceptional stretch, durability, softness, breathability, and comfort. They provide the freedom for natural movement and are equipped with antibacterial and anti-odor properties for added hygiene. Available in all sizes, our seamless leggings are fully customizable, allowing clients to choose unique printings and colors according to their preferences. 
High-performance sports bras
Thygesen Textile Vietnam specializes in crafting high-performance sports bras tailored for global brands. These bras are meticulously designed with maximum support in mind, featuring wide, adjustable straps, a comfortable yet secure fit, and robust elastic bands to minimize breast movement during intensive activities. Our priority lies in delivering superior support and reducing bounce through a combination of compression and encapsulation. Engineered with reinforced seams and durable materials, our high-impact sports bras are built to endure rigorous and frequent use, making them the ideal choice for global brands seeking top-tier athletic apparel solutions.
Organic cotton T-shirts
Thygesen Textile Vietnam specializes in crafting organic cotton T-shirts with a strong emphasis on sustainability. Our commitment is centered around responsibly sourcing and utilizing the finest organic cotton fabric available. We prioritize sustainability throughout the entire production process. By choosing organic cotton, we not only deliver exceptional comfort and quality but also align with the values of environmentally conscious and socially responsible global brands.
Bamboo loungewear
Thygesen Textile Vietnam, as a bamboo loungewear manufacturer, excels in providing OEM services. Our expertise extends to working closely with brands to bring their unique loungewear visions to life. We offer a comprehensive range of customization options, from design and fabric selection to branding and packaging. With a strong focus on quality, sustainability, and style, we ensure that the loungewear we manufacture under OEM service aligns perfectly with your brand identity and customer preferences. 
Airport hoodies
Thygesen Textile Vietnam, a trusted manufacturer of airport hoodies, operates with cutting-edge technology and modern equipment. This allows us to efficiently produce large quantities of high-quality apparel within short lead times. With the combined capacity of our two factories, which can manufacture up to 800,000 products monthly, we emphasize continuous research and development for innovative textile solutions.
Our well-equipped sewing factory and integrated supply chain feature advanced machinery, including cutting, sewing, printing, and embroidery machines. This ensures the seamless and efficient execution of all production stages, allowing us to meet the demands of our clients for premium airport hoodies with precision and excellence.
Streamlining Your Clothing Production with Thygesen: How It Works
At Thygesen Textile Vietnam, streamlining your clothing production is a seamless process. It all starts with handling your inquiry, followed by an initial quotation based on your provided Techpack and fabric selection.
Once you approve the price, we move on to sample development, where we may incur material purchase costs. After up to three rounds of sample making and price adjustments if needed, you confirm your order.
To initiate bulk production, a deposit is made, and our state-of-the-art facilities ensure efficient manufacturing. With this structured procedure, we ensure clarity, transparency, and excellence at every step of your clothing production journey.
Conclusion
In conclusion, we invite you to embark on a journey of discovery at Thygesen Textile Vietnam's modern clothing production facility. Our commitment to excellence, innovation, and sustainability is showcased in every corner of our factory. With cutting-edge technology, highly skilled teams, and a dedication to quality, we are proud to offer a world-class manufacturing experience.
From technical design to final quality control, we take pride in every step of the process, ensuring that your clothing is crafted with precision and care. As you explore our facility, you'll witness the seamless integration of artistry and technology, a testament to our unwavering dedication to delivering top-tier clothing solutions.
FAQ