In the dynamic world of the fashion industry, private label clothing manufacturing has emerged as a dynamic and ingenious solution for brands aiming to set themselves apart. This article embarks on an in-depth journey into the realm of private label manufacturing, illuminating its significant benefits for brands.
Define private label clothing manufacturer
A private label clothing manufacturer is a specialized company that focuses on producing clothing items for other brands. These manufacturers enable brands to sell apparel with their own labels and branding without having to manage the manufacturing process themselves.
In essence, a private label clothing manufacturer creates garments that prominently display the brand's label, making it appear as if the brand is solely responsible for the entire production process. Private label clothing manufacturers offer various services, including fabric sourcing, pattern making, cutting, sewing, and quality control, ensuring that each garment meets the brand's specific requirements.
Advantages of private label manufacturing for brands
Private label manufacturing offers numerous advantages for brands in today's dynamic and competitive market. These benefits make it an appealing option for businesses looking to establish or expand their presence in the fashion industry.
Here are some key advantages of private label manufacturing for brands
Cost-Efficiency: Private label manufacturing allows brands to save significantly on upfront capital expenses. They don't need to invest in manufacturing facilities, equipment, or specialized personnel. This cost-efficiency translates into higher profit margins or competitive pricing for consumers.
Speed to Market: Private label manufacturing enables brands to bring new products to market quickly. They can respond swiftly to changing consumer trends and preferences, staying ahead of competitors. This agility is crucial in a fast-paced industry.
Quality Assurance: Partnering with reputable private label manufacturers ensures stringent quality control. These manufacturers have a wealth of experience and well-established quality assurance processes, safeguarding the brand's reputation for excellence.
Customization: Private label manufacturing offers extensive customization options. Brands can tailor products to their unique specifications, including design, materials, and branding elements. This level of customization allows for the creation of distinct and memorable products.
Scalability: Brands can adjust production volumes based on demand thanks to the flexibility of private label manufacturing. Thanks to abundant resources and modern machinery technology, Thygesen Vietnam can meet customers' large-volume garment production requirements of up to at least 3000 pieces per design with different colors and mixed sizes.
Why choose Thygesen as your private label manufacturer?
Selecting the right private label manufacturer is pivotal for brands seeking excellence in their products. Thygesen stands as the ideal choice for several reasons. With a commitment to quality and ethical practices, Thygesen offers a winning combination that ensures your brand's success. Our state-of-the-art facilities and experienced team guarantee efficient production, while our premium production process ensures top-notch quality. Effective communication is at the core of our partnership, ensuring your unique vision is brought to life.
Private Label Apparel Maker with modern machinery
As a prominent private label apparel manufacturer, our reputation is bolstered by our state-of-the-art machinery. At Thygesen, we have made significant investments in cutting-edge technology to enhance the quality and efficiency of our production process. Our modern machinery is the backbone of our precision-driven garment production, ensuring consistent quality in every piece.
Our machinery lineup is comprehensive, ranging from automated cutting machines that guarantee precise fabric cutting to advanced stitching and embroidery equipment. This integration of technology into every production stage not only elevates overall quality but also enables us to efficiently cater to the unique requirements of our clients.
Additionally, we are committed to the principles of LEAN production in our manufacturing process. This commitment not only enhances operational efficiency but also aligns with our dedication to environmental responsibility. The adoption of LEAN practices enables us to minimize waste, boost productivity, and better serve your needs. Our commitment to maintaining clear communication with our team ensures the smooth operation of these processes, resulting in an outstanding private label apparel manufacturing experience.
Premium Private Label Garment Production Process
Our Premium Private Label Garment Production Process exemplifies the pinnacle of quality and precision. At Thygesen, we understand that our clients entrust us with their brand's reputation, and our meticulous process ensures that we meet and exceed their expectations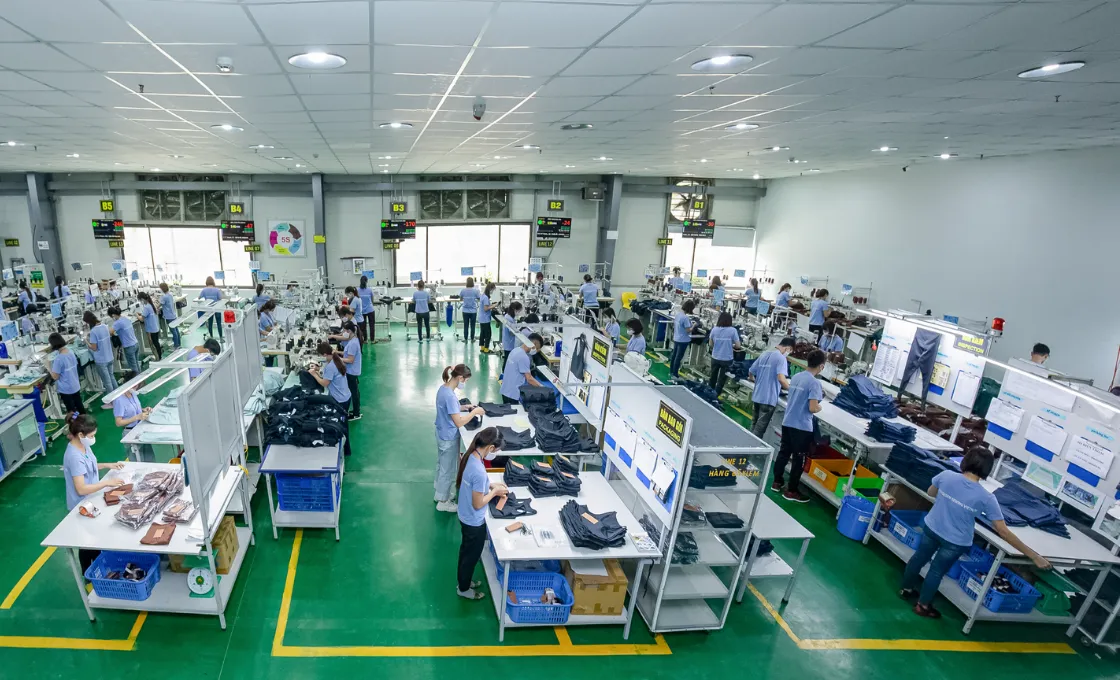 Design Concept Discussion: We start by discussing your design concept thoroughly. Your ideas, inspirations, and vision for the garments are the focus of these discussions. Our goal is to capture the essence of what you intend to create.
Material Selection Consultation: Selecting the right materials is crucial for premium garment production. We engage in detailed consultations to determine the ideal fabrics and materials that align with your vision while considering factors like comfort, durability, and sustainability.
Customization Requirements: If your vision includes custom elements like logo placement, specialized labels, or unique packaging, we work closely with you to understand these specifications. We ensure that your brand's unique identity is seamlessly integrated into the production process.
Sample Evaluation: Before moving forward with full-scale production, we provide you with samples of the garments based on your design concepts. This step allows you to physically assess and approve the prototypes, ensuring they meet your expectations in terms of design, materials, and overall quality.
Production Timeline Alignment: Clear communication is essential for ensuring timely delivery. We collaborate with you to align production timelines and schedules, minimizing delays and ensuring your garments reach the market as planned.
Post-Production Support: Our commitment to your brand continues even after garment delivery. We remain available for post-production support, addressing any questions, concerns, or issues that may arise.
Supportive communication
Clear and effective communication is vital to any successful private label manufacturing partnership. At Thygesen, we prioritize transparent and timely communication throughout the production process.
We assign a dedicated account manager to each client, serving as your primary point of contact. This manager is responsible for understanding your needs, addressing your questions, and ensuring smooth communication between you and our production team. We provide regular updates on the progress of your order, from design to delivery, keeping you informed at every stage. Collaboration is central to our approach, and we work closely with your design team to bring your ideas to life.
Flexibility is key. We understand that changes may be necessary, and we're open to accommodating modifications to your order. If issues arise, we're proactive in addressing them to minimize disruptions. Our quality assurance team meticulously inspects garments throughout production to ensure they meet your specifications. Any discrepancies are promptly communicated for resolution.
Even after delivery, we remain accessible for any post-delivery support you may need, including addressing questions or concerns.
An extensive range of clothing items you can produce under private labels with Thygesen
At Thygesen, we take pride in offering an extensive array of clothing items available for private labeling. Our commitment to quality, craftsmanship, and customization enables brands to craft their unique fashion lineups. Whether you're looking to create premium T-shirts, cozy hoodies, high-performance sportswear, stylish children's clothing, or comfortable underwear and loungewear, Thygesen Vietnam has you covered.
Private Label T-shirts manufacturing
When it comes to private label T-shirts, Thygesen Vietnam is your go-to partner. We understand that T-shirts are timeless staples in everyone's wardrobe, and we're here to help you design and manufacture the perfect lineup for your brand.
Our state-of-the-art machinery and experienced team ensure that every T-shirt we produce meets the highest quality standards. From classic crewnecks to trendy V-necks, we offer a wide range of styles and cuts to cater to various consumer preferences. Choose from an extensive palette of colors and fabrics to achieve the exact look and feel you desire.
Customization is at the heart of our T-shirt manufacturing process. We provide options for printing and embroidery, allowing you to add your brand's unique touch to each piece. Whether you're aiming for a minimalist design or something more elaborate, our team is dedicated to bringing your vision to life.
Exceptional Comfort Hoodies
At Thygesen Vietnam, we are dedicated to producing premium hoodies that redefine comfort and style. If you're seeking to expand your private label clothing line with high-quality hoodies, you've come to the right place.
Our hoodies are designed to provide the perfect blend of fashion and functionality. Crafted from top-notch materials, they offer unparalleled comfort and durability, ensuring that your customers stay warm and cozy in style. Whether you prefer classic pullover hoodies or stylish zip-ups, our diverse range of styles has you covered. Choose from a wide spectrum of colors, from timeless neutrals to trendy shades, to match your brand's aesthetic.
We understand the importance of delivering large quantities of exceptional hoodies promptly, and our state-of-the-art facilities and experienced team make it possible. When partnering with Thygesen Vietnam, you can expect not only superior hoodies but also a seamless and efficient production experience that helps you get your products to market quickly. Our commitment to quality and speed sets us apart as a trusted manufacturer for large hoodie orders.
High-performance sportswear
At Thygesen Vietnam, we understand the critical role that sportswear plays in athletic performance. That's why we're committed to producing high-performance sportswear that empowers athletes to reach their full potential.
Our range of sportswear is designed with precision and expertise to enhance comfort, durability, and overall performance. We utilize cutting-edge materials that wick away moisture, regulate body temperature, and provide the necessary support for athletes during their rigorous training sessions or competitions.
Whether it's athletic jerseys, shorts, leggings, or any other sportswear, we offer a wide variety of options that cater to different sports and activities. We understand that each sport demands specific features, so we customize our designs to meet those requirements.
In addition to functionality, we prioritize style. We believe that athletes should not only feel their best but also look their best. Our sportswear is available in various colors and designs, allowing your brand to create a unique and stylish collection. If you have specific branding needs, we offer customization options like logo printing and embroidery. Your brand's identity will shine through, and athletes will proudly wear your sportswear.
Colorful Children clothing
Thygesen Vietnam takes pride in creating colorful and safe children's clothing that brightens up every little one's day. Our extensive collection of children's clothing caters to a wide range of styles, ages, and occasions, ensuring that your brand can offer parents diverse and appealing options.
Ensuring the well-being and comfort of children is paramount to us. We place a high priority on the selection of materials that are not only child-friendly but also safe and gentle on their delicate skin. Our commitment to safety extends to using fabrics that are free from harmful chemicals, providing parents with peace of mind knowing that their little ones are wearing clothing that meets stringent safety standards.
Our range includes playful and vibrant designs that children will adore, from adorable baby rompers to trendy outfits for older kids. Whether it's for playtime, special events, or everyday wear, we have you covered. Bright colors and imaginative patterns add a touch of whimsy to our collection, making dressing up an enjoyable experience for kids.
We also offer customization options to help your brand stand out. Add your logo or unique designs to our children's clothing, and you'll create a brand identity that resonates with parents who seek both style and safety.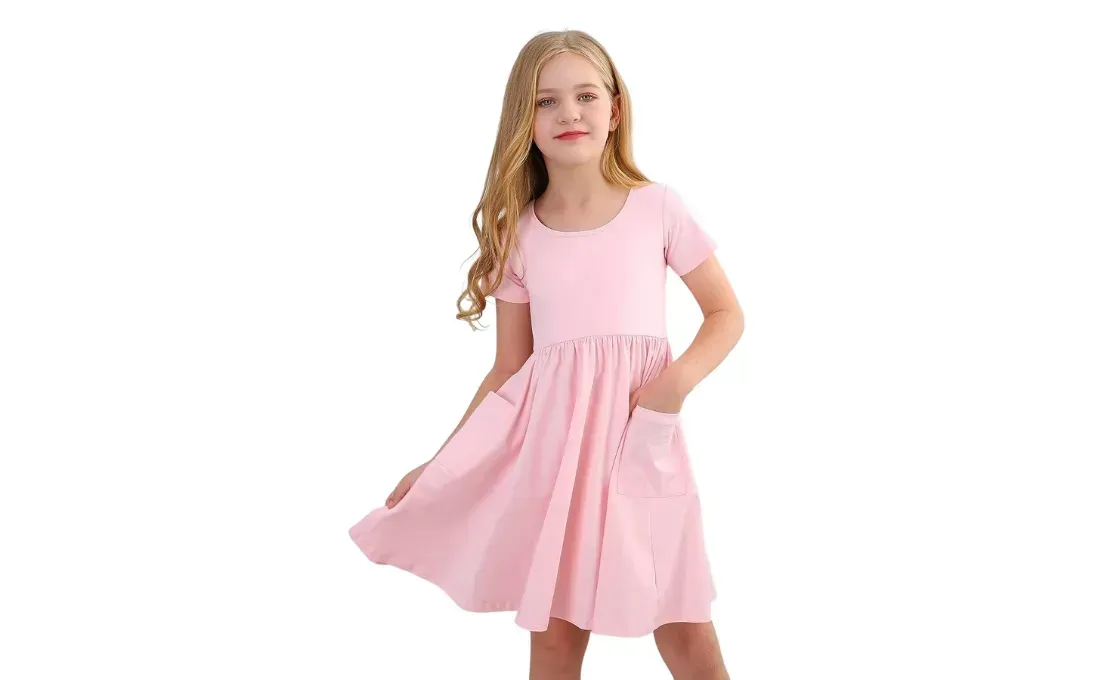 Luxurious Underwear & loungewear
Thygesen Vietnam proudly presents its exquisite range of luxurious underwear and loungewear, promising unrivaled comfort and timeless style. We understand that discerning clients seek the perfect blend of quality, comfort, and design, which is why our collection is meticulously crafted to cater to those desires.
Our commitment to excellence extends beyond our ready-made collection. For those looking to imprint their unique brand identity, Thygesen Vietnam offers exceptional OEM and ODM services. You can collaborate with us to create bespoke underwear and loungewear, tailored to your specifications. Whether you have a distinct design in mind or wish to add your label to our premium offerings, our team is dedicated to bringing your vision to life.
Our materials are carefully chosen to ensure not only comfort but also durability. We pride ourselves on producing items that stand the test of time, providing your customers with garments they can rely on.
At Thygesen Vietnam, we understand that luxurious underwear and loungewear should be an indulgence for all, and our services cater to a wide range of brands and businesses. Whether you're looking to enhance your product line or create an entirely new collection, we're here to make your vision a reality, offering a partnership built on trust, quality, and style.
Fully customization options for private label designs
At Thygesen Vietnam, we understand that your brand is unique, and we're here to help your products reflect that distinctiveness. With a comprehensive array of customization options, we empower you to shape your private label designs precisely as you envision.
Logo printing/embroidery
In the private label clothing industry, establishing a strong brand identity is of utmost importance, and Thygesen Vietnam recognizes the critical role it plays. Our expertise in logo printing and embroidery services ensures that your private label designs effectively convey your brand's unique identity.
When it comes to logo replication, our advanced printing technology guarantees precision and vibrancy. Whether you prefer the classic look of screen printing, the versatility of heat transfer, or the high-resolution results of direct-to-garment (DTG) printing, we have the capabilities to meet your specific requirements.
For a more tactile and refined approach, our embroidery services are unmatched. Skilled artisans employ state-of-the-art machines to meticulously render your logo with impeccable detail. The result is a logo that stands out, adding a touch of sophistication to your garments.
We understand that customization is key to creating a brand image that resonates with your target audience. That's why we offer a variety of customization options, including woven labels, printed tags, and specialized badges. These options allow you to select the format that perfectly aligns with your branding goals.
With Thygesen Vietnam's logo printing and embroidery services, your brand's identity will take center stage on every garment, significantly enhancing brand recognition and reputation in the competitive market.
Various choices of fabric – Material sourcing/development as requirements
At Thygesen Vietnam, we recognize that fabric choice is integral to the quality and appeal of your private label clothing. That's why we offer a diverse range of fabric options, ensuring that your garments are not only fashionable but also comfortable and durable. We provide choices that span from classic materials like cotton and polyester to specialized fabrics designed for breathability, moisture-wicking, and thermal control.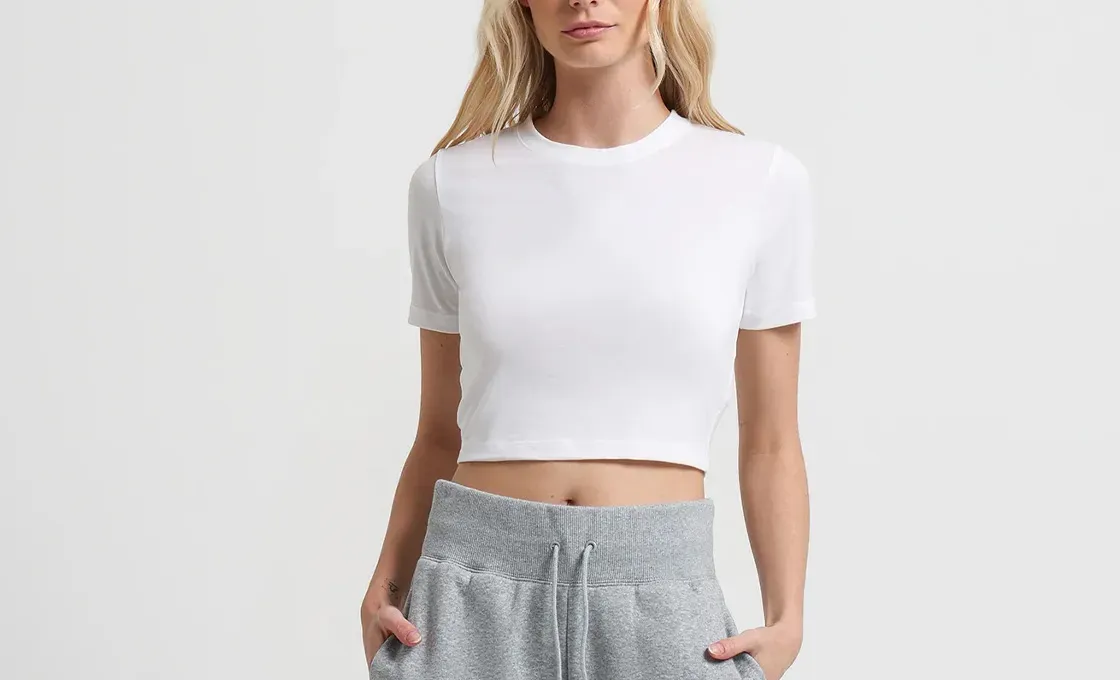 Additionally, if you have specific material requirements or desire custom fabrics, our experienced team is well-equipped to handle material sourcing and development. We work closely with you to source or create fabrics that align with your unique vision, performance, and sustainability goals. Our commitment to providing an array of fabric choices and our capability for customized material development ensures that your private label clothing meets and exceeds your expectations, delivering both style and quality to your customers.
Customized dyeing
Thygesen Vietnam understands that color plays a pivotal role in the visual appeal of your private label clothing. With our customized dyeing services, you have the flexibility to achieve the design that aligns with your brand's identity. Whether you need vibrant, eye-catching hues or subtle, elegant tones, our state-of-the-art dyeing techniques ensure precision and consistency in coloration. We take pride in our commitment to environmental responsibility, using eco-friendly dyeing processes that minimize the ecological footprint. Our skilled team works closely with you to understand your color requirements and ensures that the final product reflects your brand's unique style and aesthetics. By offering customized dyeing options, Thygesen Vietnam empowers you to create clothing that not only meets your design vision but also captivates your target audience, making a lasting impression in the competitive market.
Special packaging if required
At Thygesen Vietnam, we understand that packaging is the finishing touch that can elevate your private label clothing brand's presentation and leave a lasting impression on customers. That's why we offer special packaging solutions tailored to your unique requirements. Whether you prefer eco-friendly packaging that aligns with sustainability goals or luxurious packaging that adds a touch of sophistication, we've got you covered. Our customization options include branded boxes, eco-conscious materials, personalized labels, and more. We work closely with your team to design and create packaging that not only protects your garments but also reinforces your brand's identity and values.
Our commitment to quality extends beyond the clothing itself, ensuring that every aspect of your product, including its presentation, meets the highest standards. With special packaging tailored to your specifications, Thygesen Vietnam helps you create a memorable unboxing experience for your customers, strengthening brand loyalty and setting your private label clothing apart in a competitive market.
FAQ