At Thygesen Textile Vietnam, we take immense pride in our position as a prominent Workwear Manufacturer. Our commitment to quality and innovation is evident in every product we create. Crafted from superior materials, our workwear offerings prioritize safety and comfort, ensuring that every garment delivers the highest level of protection.
Apart from our pre-designed workwear, we offer a Custom Workwear service, enabling businesses to create tailored apparel. As a top safety workwear manufacturer in Vietnam, we're committed to providing excellent products. We believe our industrial work apparel can positively impact workplaces, consistently delivering the highest quality in the market.
How Do We Produce Workwear
At our workwear manufacturer, our process of producing top-quality workwear is a seamless journey, marked by meticulous attention to detail. It begins with sourcing and purchasing fabric from our trusted suppliers. Next comes the precise fabric cutting and expert sewing, culminating in bulk production. Our rigorous quality checks and careful packaging ensure that the final products meet the highest standards. Once ready, your orders are promptly delivered worldwide, reflecting our commitment to delivering excellence to customers around the globe.
Source and Purchase Fabric From Our Supplier
At Thygesen Textile Vietnam, our approach to Workwear manufacturing stands out for its excellence. A key factor that sets us apart is our comprehensive sourcing service, enabling us to procure precise materials tailored to our customers' unique specifications.
Furthermore, through a reliable global supplier network, we obtain top-quality materials at competitive prices. This commitment underscores our dedication to providing superior, cost-effective workwear solutions that meet our clients' performance and budget requirements, ensuring comfort and readiness for their workforce.
Sample Development
Sample Development is the bridge that transforms ideas into tangible, functional garments. This crucial phase embodies our dedication to innovation and precision.
Especially, our experienced team, equipped with state-of-the-art technology, meticulously translates design concepts and specifications into prototype workwear. This pivotal step allows for a tactile and visual representation of the envisioned product. It allows for refining and adjusting, ensuring the workwear meets the highest standards of craftsmanship and functionality.
Sample Development typically takes 7-10 days, and it's a phase where we meticulously inspect every detail. At this stage, we address any discrepancies or needed improvements. If applicable, we invest the sampling fee back into the bulk orders once finalized.
Sample Development is more than a process; it's a testament to our commitment to delivering exceptional, top-quality workwear solutions that surpass the unique needs of our clients.
Bulk Production
With a remarkable production capacity of up to 800,000 pieces per month, we make the commitment to meeting our clients' demands.
Our high-capacity production combines advanced technology and skilled labor to create top-quality workwear in large quantities. Expertise and rigorous quality control guarantee consistent craftsmanship, durability, and functionality across every piece.
Our efficiency and precision in Bulk Production make us a trusted partner for clients seeking reliable workwear solutions. Recognizing the significance of timely large-scale production for diverse industries, our high-capacity capabilities reflect our commitment to meeting these needs with excellence.
Check And Packing
The Check and Packing phase at our workwear manufacturer is the final touch that ensures every garment meets our stringent quality standards before it reaches our valued customers. This stage represents the culmination of our unwavering commitment to precision and excellence.
Our skilled team meticulously inspects each workwear item, ensuring it meets the highest quality standards. This thorough scrutiny guarantees that only top-notch, defect-free workwear is included in your order.
Our team rigorously checks approved workwear for quality before meticulously packing it for secure transit. Moreover, our commitment to quality is reflected in the precision of our packing process, ensuring clients receive exceptional and carefully delivered workwear.
Delivered worldwide
Our dedication to providing top-quality workwear knows no borders, and we ensure that our products reach customers across the globe. We understand the significance of timely deliveries and go to great lengths to make this a reality.
Whether you're in need of our exceptional workwear solutions in Asia, Europe, the Americas, or any other part of the world, you can count on us to promptly deliver your orders to your doorstep.
Our global delivery network, built on trust and efficiency, ensures easy access to our workwear for our diverse international clientele. Thygesen Textile Vietnam's commitment to worldwide delivery aligns with our mission to set the benchmark for quality, comfort, and safety in workwear, regardless of location.
Workwear Manufacturer with Customization Services
Thygesen Textile Vietnam offers OEM service alongside our customization options. This service allows us to create workwear that bears your unique brand identity and meets your specific preferences. Whether it's incorporating company logos, colors, or other branding elements, our customization and OEM services collectively provide a comprehensive solution for tailoring workwear to your exact specifications.
We understand that your workwear should not only be functional but also a distinctive reflection of your brand, and we have the full capability to make this vision a reality.
Workwear Manufacturer with Custom New Design
As a workwear manufacturer, our process begins with an in-depth consultation where we gather essential details about your brand, including colors, logos, and other distinctive elements. This valuable information forms the foundation for crafting a unique and personalized workwear design consulting that reflects your brand's essence.
Through collaboration and creativity, we ensure that your workwear not only meets the highest standards of quality and durability but also resonates with your company's image and values.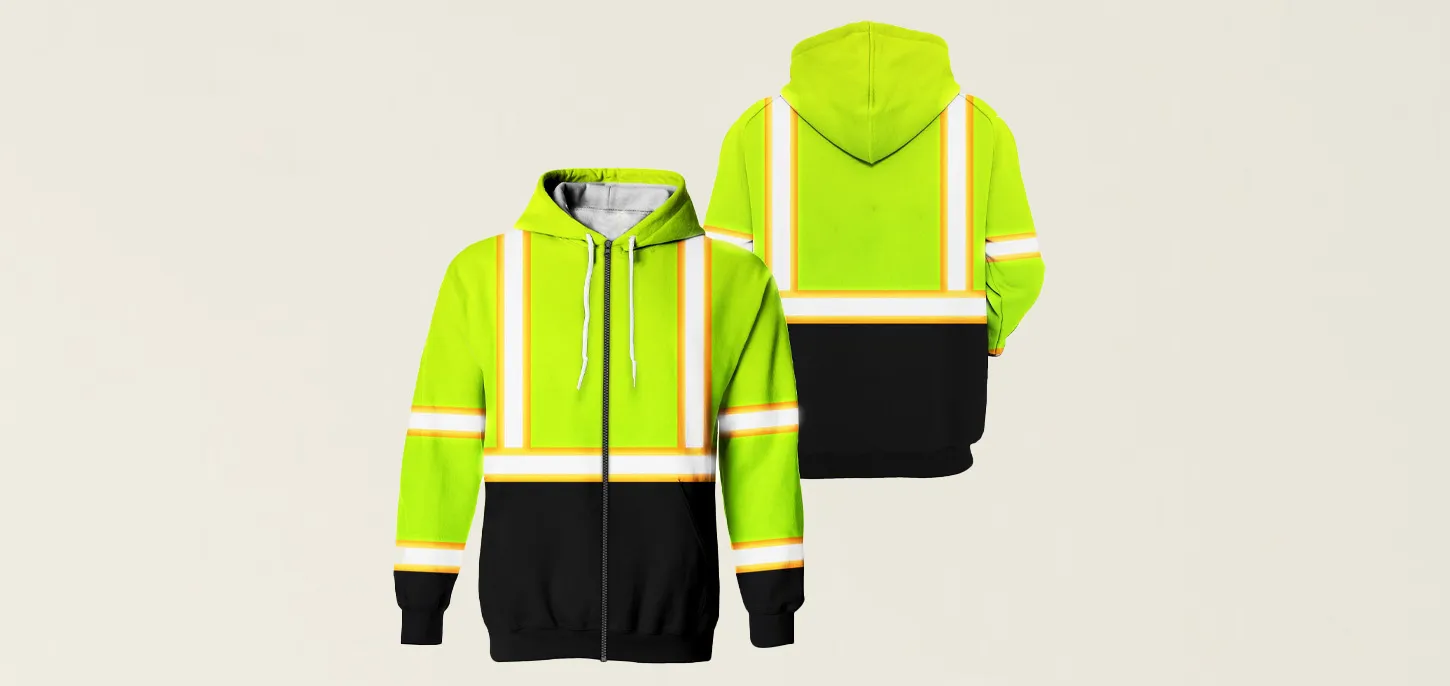 Workwear Manufacturer with Custom Logo Printings
Thygesen Textile Vietnam takes customization to the next level with our exceptional custom printings service.
In detail, we recognize the significance of workwear bearing your company's logo, and we're here to make it happen seamlessly. We design our custom print logos to imprint your logo onto the garments with precision and professionalism. We understand that the visibility and quality of your logo are paramount, and we spare no effort to ensure it looks exceptional. To achieve this, we employ trusted partners known for their high-quality printing methods.
Through our custom printing service, your logo becomes a symbol of our commitment to exceeding expectations in workwear. We take pride in offering solutions that blend functionality, style, and brand representation, making you stand out in the workplace.
Workwear Manufacturer with Custom Material
At Thygesen Vietnam, we understand that every company has unique material requirements for their workwear. This is where our Custom Material service comes into play, allowing us to cater to your specific needs. With this service, you have the flexibility to handpick the exact kind of fabric that best suits your workwear requirements.
Our global supplier network offers a variety of materials, from high-performance to flame-resistant fabrics. Thygesen Textile Vietnam is committed to exceeding expectations with our Custom Material service.
Workwear Manufacturer with Custom Details
Thygesen Textile Vietnam ensures your work clothing perfectly fits your company's unique needs with our Custom Details service, allowing you to specify precise features on your workwear.
This service is ideal for companies that require specific details or functionalities in their work clothing. Whether it's specialized closures, buttons, zippers, or any other bespoke elements, we're equipped to incorporate these custom details into your work attire.
Our dedication to customized workwear is evident in this service, recognizing that details matter for functionality and style. Thygesen Textile Vietnam is proud to be your trusted partner, providing personalized workwear tailored to your exact specifications.
Workwear Manufacturer with Custom Packaging
We understand that the presentation and packaging of your workwear are as important as the garments themselves. That's why we offer a variety of options, allowing you to choose from boxes, bags, or any other unique packaging that suits your vision.
Additionally, we're dedicated to sustainability, and we extend this commitment to our packaging. We provide eco-friendly options, aligning with your company's environmental values and contributing to a more sustainable future.
Our workwear manufacturer is devoted to exceeding your expectations. We're not just here to manufacture workwear; we're here to deliver a complete and personalized workwear solution, right down to the packaging that aligns with your brand and sustainability goals.
What Work Clothing Do We Offer?
Thygesen's Workwear Manufacturing provides a broad selection, including corporate uniforms and high-visibility work hoodies, meeting diverse needs. Whether it's work sweatshirts or polo uniforms, our LEAN manufacturing and skilled workforce enable us to produce over 800,000 pieces monthly, ensuring efficiency and precision to meet various workwear demands. Count on us for capacity and expertise in fulfilling a wide spectrum of workwear needs.
Base Layers
At Thygesen Textile Vietnam, our Workwear expertise extends to Base Layers, where we redefine comfort, quality, and innovation. Our base layer manufacturing service reflects our unwavering commitment to enhancing wearer performance, prioritizing well-being, and fostering a safer, more productive work environment.
In particular, what sets us apart from other workwear manufacturer is our utilization of cutting-edge fabric technology in production. We engineer our base layers to excel in moisture-wicking, breathability, and temperature regulation, ensuring that your teams or customers remain comfortable and focused on the task at hand.
Our designs set new standards, providing both wearers and employers with assurance in quality and performance for a more efficient and secure work environment. Therefore, choosing Thygesen Textile Vietnam for base layers means investing in workwear that merges technology, comfort, and functionality.
Reflective Vests
We understand that safety in various work environments is paramount, and our Custom Reflective Vests are designed to meet your unique requirements.
Notably, quality assurance is at the core of our manufacturing process. Thygesen manufactures reflective vests with an unwavering commitment to delivering high-quality products. Our deep understanding of diverse market demands ensures that our vests not only enhance safety but also fully comply with stringent specifications, including hi-vis standards, reflective properties, UV protection levels, and more.
Our commitment to quality is evident in the use of durable materials capable of withstanding rigorous industrial washing, prolonging the lifespan of our products. Specifically, meticulously designed, our reflective vests ensure exceptional visibility, not only during the day but also in dark or low-light conditions.
Workwear Jackets
At Thygesen Textile Vietnam, our Workwear Jacket manufacturing process places a strong emphasis on rigorous quality control, reflecting our unwavering commitment to delivering excellence.
Each workwear jacket undergoes a thorough inspection during production, where it is meticulously examined to meet the highest standards of quality and performance.
In particular, this includes a comprehensive check for any defects, such as holes, tears, or misaligned seams. Additionally, we ensure that every jacket complies with relevant safety and industry standards, leaving no room for compromise.
Workwear Hoodies
At Thygesen Textile Vietnam, we design our workwear hoodies to unveil a world of features and expertise that cater to the specific needs of workers in various industries.
Particularly, our main objective is to empower workers to perform their best, free from discomfort or distraction caused by subpar workwear. We meticulously choose materials and designs that prioritize comfort and effectively manage body temperature and moisture levels, ensuring wearers remain comfortable throughout their workday.
Our Workwear Hoodie collection is a testament to our commitment to functionality and customization. These hoodies are available in a range of styles and customization options, enabling clients to imprint their brand identity on the garments. Whether it's for branding, comfort, or style, our hoodies represent a fusion of custom designs and high-end fabrics.
Workwear T-shirt
Our Workwear T-shirts are not just garments; they represent the embodiment of our core guiding principles – truthfulness, quality, and people.
Truthfulness is our core value, guiding our actions with integrity, honesty, and a commitment to fostering trust and transparency. Quality stands as the cornerstone of our workwear, setting a standard of excellence that consistently surpasses expectations. Above all, people are the heartbeat of our business—our dedicated employees, valued partners, and cherished customers. We place relationships at the forefront, aspiring to create a positive impact in every life we touch.
Our principles drive us to innovate and collaborate, shaping a future where integrity, excellence, and well-being are paramount. Choosing Thygesen Textile Vietnam means investing in a partnership built on trust, quality, and the empowerment of people.
High Visible Work Clothing
Thygesen Textile Vietnam is known for its high-quality and reliable high-visibility work clothing. Our High Visible Work Clothing line is a testament to their commitment to safety and functionality at our workwear manufacturer.
Crafted with precision and utilizing advanced textiles, we design these workwear garments to keep wearers safe in high-risk environments. With the ever-increasing emphasis on workplace safety, Thygesen Textile Vietnam's high-visibility work clothing is tailored to meet stringent industry standards. They incorporate vibrant, fluorescent colors and reflective strips to ensure workers remain easily identifiable, even in low-light conditions.
Thygesen Textile Vietnam stands out for its commitment to safety, coupled with a focus on comfort and durability. Our workwear ensures a comfortable fit, superior breathability, and robust construction, enabling optimal performance for workers without compromising safety.
Workwear Manufacturer with Certifications and Standards
Thygesen Textile Vietnam stands as a beacon of commitment to excellence, transparency, and ethical/environmental responsibility. We believe in translating our purpose into tangible actions, and our dedication is exemplified by the prestigious certifications and standards we hold. These certifications represent our unwavering commitment to comply with both local and international labor laws and quality standards.
Quality Assurance:
Our pursuit of excellence is reflected in our quality certificates, which elevate trust, efficiency, and consistency throughout every aspect of our processes. These certificates underscore our commitment to maintaining top-tier standards, delivering superior quality, and ensuring unwavering customer satisfaction.
GSV (Global Security Verification)
ISO 9001:2015 (Quality Management System)
ISO 13485-2016 (Medical Devices Quality Management System)
CE Marking (Conformité Européene)
Sustainability & Social Accountability:
We're embarked on a transformative journey, cultivating expertise to foster a responsible, ethical, and impactful future. Our sustainable efforts are embodied by these certifications.
WRAP (Worldwide Responsible Accredited Production)
Better Work
SA 8000:2014 (Social Accountability)
FSC (Forest Stewardship Council)
Certified Materials:
We want you to embark on your journey with confidence, knowing that the materials we use align with your vision and follow a sustainable and non-toxic approach.
GRS (Global Recycled Standard)
OCS (Organic Content Standard)
Oeko-Tex (Textile Product Safety)
With these certifications and standards, Thygesen Vietnam not only assures the highest quality in our products but also demonstrates our commitment to sustainability, social responsibility, and ethical manufacturing practices. We're your trusted partner on the path to a better, more responsible future.
Conclusion
In conclusion, Thygesen Textile Vietnam's Workwear stands as a testament to our unwavering commitment to excellence, innovation, and client satisfaction.
Our workwear represents a harmonious fusion of expert craftsmanship and cutting-edge materials, meticulously designed to strike the perfect balance between comfort, functionality, and durability. Each garment is a reflection of our dedication to making the work environment safer and more productive.
Moreover, Oour customization options, certified materials, and strict quality control allow us to tailor workwear solutions that align perfectly with your vision and values.
FAQ